Growing up I used to always have a negative mind-set. My view of life was tainted. The glass was half empty and no matter what I did, I never felt good enough. Over the years, my thinking changed – the glass was full and overflowing. I was unstoppable; I was doing well in my career, I had the love of my family, a lot of great friends and loved to be around people 24/7.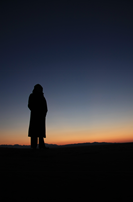 Unfortunately there was a problem – a BIG problem that was looming over me. Even though I had known the Lord my whole life and began to get serious in my relationship with Him when my mom suddenly passed away, I still had the wrong priorities and focus. My work/career was my identity, my bank account was my security and, ultimately, my trust was in myself – Elizabeth Smith.
God Begins to Call Me Into a Different Role
After many years of working with my largest client on some great projects, I started to become complacent. While I loved my colleagues, I was no longer challenged by the work that I was doing. At the same time, the Holy Spirit told me that the reason I was still working with that client was due to my lack of trust in Him. Yet, I still struggled with letting go.
When I realized that He was asking me to 'give up' my security blanket (my client/income), fear filled my heart and I began to cry. At the same time, I sobbed even more when I realized that I had put my security and trust in something other than God. Wow, such a humbling moment. I was so ashamed and, yet, God so lovingly wiped the tears from my face and forgave me.
Let the Refinement Process Begin

Over the course of a few months through much prayer, He reconfirmed to me that I needed to step away from one of my clients. A client that served as my bread and butter for nine years – ouch! You see, God wasn't being a cruel and unloving Father – but actually just the opposite. He realized that I would never truly be happy or be at peace with things while my security and self-worth were attached to anything but Him.
I can still vividly recall driving into my client's office the morning that I was going to 'give notice.' I had gotten off the phone with someone who shared their concern about my decision. They thought I was 'crazy to drop my largest client' – especially when the economy was just starting to head south and that I didn't have any other large clients waiting in the wing. On the verge of tears and fighting through the fear, I called a friend who prayed with me and helped me to refocus my thoughts and renew my mind.
It didn't stop there. God told me that He would rebuild my business His way, not my way. Over the next six months, He gave me another choice. I could either "learn to truly trust Him" or remain with my second largest client. The only option that gave me peace was to drop my other large client and trust in Him. Good news is that I was more receptive to the Holy Spirit's prompting so it only took a few days to reach the decision and have a peace about it, versus a few months like the other career option.
Since then, I've been blessed with great friends and experiences, as well as exciting opportunities. However, I've allowed bad habits to creep back in and dominate my thought life. My negative thinking has returned, and it's returned with a vengeance. God has told me that this wasn't His plan for me, but it was my choice to trust my fear versus trust Him. I've allowed myself to fall further down into the negative spiral He's told me several times not to fear for He is with me.
Getting Out of the Pit and Overcoming Fear
Fast forward to now – a new beginning.
Each day is a choice …
A choice to put Him first, surrender control and seek His face.
A choice to trust in Him as my identity and my source of security – not my career, my bank account or myself.
A choice to do things in His strength – versus my own.
A choice to surrender my thought life to Him by renewing my mind.
Failing is the easy thing to do – taking active steps towards success is the hard stuff. With Him by my side, I am NOT alone and I WILL succeed! Isaiah 41:10 is a verse that God gave to me, which makes it even more precious and relevant: "Fear not, for I am with you; Be not dismayed, for I am your God. I will strengthen you,  Yes, I will help you,  I will uphold you with My righteous right hand."
Join in the Conversation
I created this site out of obedience to what God asked me to do  – which means being more transparent about the struggles and challenges that we all face from time to time (gulp).
Prayerfully, this site will encourage more people to bring their struggles with overcoming fear and anxiety out in the light so that God can truly heal them. I am not a doctor or medical professional, just a servant of Christ who is being obedient to what God has put on my heart to share as He helps me walk through this uphill climb towards victory.
I invite you to come along for the ride and share in the experiences – both good and bad – so that we can grow together and learn from each other.
Proverbs 27:17 says it perfectly "As iron sharpens iron, So a man sharpens the countenance of his friend."
Disclaimer
As mentioned above, I am NOT a medical professional. Should your thoughts become very dark, I invite you to reach out to Christ – He is always there, no place is too dark for Him to reach (Psalm 139:11-12). His ways are the BEST ways. Learn more about knowing God.
I also encourage you to connect with your local church and/or a medical professional in your local area. Remember by keeping these thoughts to yourself, you're enabling Satan to keep you paralyzed and immobile – versus on your way to victory.